Serious controversies have always existed in the world of stamps. However, news from one US town has got the locals fuming. The US Postal Service has printed a batch of stamps that are considered to be just too dangerous to sell in Williamsville. What sort of terrifying images are on such stamps? Cartoon pictures of children doing physical activities such as headstands, skateboarding and jumping into swimming pools.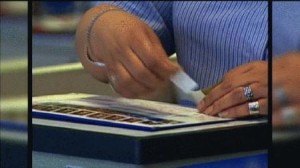 The stamps had been issued as part of a nationwide 'Just Move' campaign designed to help children be more active. However, the President's Council on Fitness, Sports and Nutrition has deemed them to be far too dangerous to be seen by children. First Lady Michelle Obama has been a strong advocate of the movement to encourage children to lead healthier lifestyles yet the stamps were pulled from distribution when the council raised concerns. The Postal Service said it is "continuing to develop plans regarding a fitness-themed stamp series" but won't have more information until 2014.
Old stamps are in strong demand with stamp collectors, but this set of new editions is also causing quite a stir. The offending stamps are printed on a sheet with various other 'Just Move' images therefore cannot be easily edited or pulled from production. The President's Council has insisted that it never asked the Postal Service to recall the stamps. Instead they state that they were simply giving feedback as a response to being asked. Reports that it was suggested that the person doing a headstand should be wearing a helmet have been flatly denied. They stated:
"We suggested that they consider replacing the headstand entirely with an activity that would be more active and safe. Adding a helmet to the child in the headstand stamp never came up."
No matter what, Lenore Skenazy, a public speaker and author of "Free-Range Kids," believes that the postage stamps controversy is proof of mollycoddling gone mad.
"To think of a scenario where a headstand is unsafe really takes a leap of imagination," she said. "People have been doing them for as long as we've had heads on our shoulders. Do they want kids doing nothing? Because they're suggesting almost all movement, aside from sitting in a chair and copying a lesson, is too dangerous to let kids do."
The company responsible for printing the stamps is currently holding them under lock and key whilst the debate is sorted out. It generally costs about $90,000 to print 30 million stamps, so it is fair to say that a lot of money will be wasted if the stamps are not allowed to be put up for sale. It is well known that collectors are always interested by hard to get hold of stamps. However, it would not be possible to get hold of them legally at the moment, so the printers will have very tight security in order to protect their assets and help uphold the good reputations of honest stamp dealers. A conclusion will have to be reached on this issue soon.
About the Author – Sarah Makinson blogs regularly for a number of lifestyle sites, including Sandafayre.