Office work is tough no matter what business you're in. But it doesn't mean that you and your team have to stare at the same drab four walls every day, or messy storage areas that portray a less-than-professional image to visitors. Badly designed or faulty office storage is frustrating and creates a negative environment. The same goes for brazenly unattractive office furniture – and let's be honest, there's some pretty hideous office chairs and tables out there!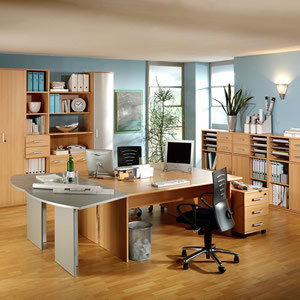 Invest in modern office furniture and turn your workspace into an environment that is a pleasure to be in. Redesigning and the addition of stylish, functional storage solutions helps boost staff morale and shows them that they're valued. After all, we all know that happy staff equals a happy company. And that in turn boosts productivity.
Office storage types
The type of company you are will affect the style of office storage you require. If it's paperwork that needs organising, look into contemporary filing cabinets, large shelving and drawers. If you're a publishing house then do you want bookshelves to display products or large cabinets to keep them confidential?
Think about security and client confidentiality too; if you're a law firm, locking filing cabinets are frequently essential. But if you don't deal with confidential projects then why not look into more open and accessible storage?
Many large cabinets have open sections and locking sections making them perfect for the versatile and modern office.
Who will see the office? 
Areas where visitors and clients may be might need more closed off and formal storage cabinets, but if there are sections of the office that are purely for staff, the storage solutions can be more open and accessible. Remember that it will be your staff that use office storage every day so taking time to listen to their needs helps you find the most appropriate and functional designs.
Think about complementing design, especially in areas where clients will be present. The quality and modernity of office furniture say a lot about the company and you want to make a good impression not just in the lobby, but throughout the building.
If you're housed in an old building with traditional design then consider whether you want to keep the theme with dark wood storage or whether you want to make a contrast with modern and minimalist interior styles. If you're feeling lost in a world of office interior design and storage solutions then it may well be time to find a company who also offer design consultations.
Design consultations
Finding a company who offer design consultations means that you will get the benefit of years of experience. They will be experts in interior business design and will also understand the storage needs of your staff. Getting in depth advice means that you can finish the project with an original and bespoke office setup.
Having a consultation allows the space to be assessed and gives you time to discuss your ideas, options and the company's products that are best for your needs. This also shows you that you're sourcing your office furniture from a company who are specialists and can offer you advice and support throughout the process.
About the author – Kitiara Pascoe writes for blogs and websites on a range of topics including business interior design and services. She sees no reason why office interiors shouldn't be a nice place to be. This piece was researched online, using info found on the Calibre Furniture website.