Over the years, limestone has come to become a favourite for paving gardens, walkways, driveways and patios. Even a boring landscape can become lively with rich colours of limestone. It imparts a natural beauty to the environment.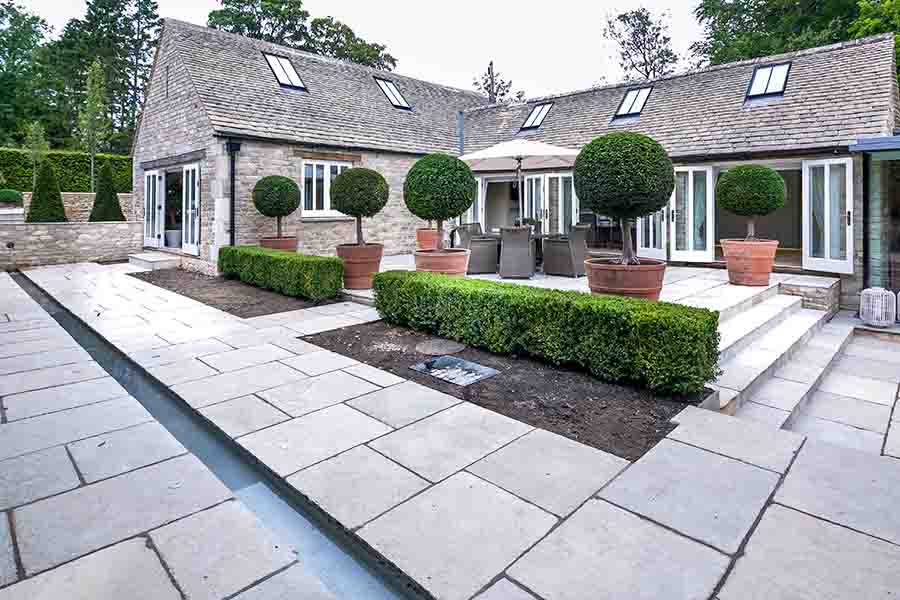 Great outdoors
If it is a great home, it will be complemented only by a great outdoors. There is a lot that can be done to create attractive outdoors from beautifying pavements, edges and walls to providing stepping stones and stone benches.
External flooring
The material used for outdoor flooring includes concrete, bricks, tiles and stones like flagstone and limestone. External flooring is usually done either by laying interlocking concrete pavers or stone pavers in a set pattern. Concrete pavers are made in factories with the help of moulds and allowing the liquid mixture of concrete to set. Stone pavers are comparatively costly because of their good looks and strength. They are extensively used in buildings and for the purposes of landscaping. Material used for making stone pavers includes basalt, sandstone, granite and limestone. While granite is dense and its internal strength is quite high which makes its maintenance quite easy, limestone pavers are derived by cutting from natural blocks.
Permeable paving
As against concrete and stone based paving, permeable paving is used in lawns and other landscapes with lesser vehicles to go over it. Permeable pavement allows rainwater to seep under the ground instead of it flowing away. This arrangement is more nature friendly. While on the one hand permeable paving allows water seepage to recharge groundwater, it also controls erosion. Because of non-porous surface, impervious pavement like the ones made of brick or stone need a special and separate rainwater drainage system.
Limestone
It is normally present as an organic sedimentary rock formed by piling up of fossils of marine organisms. It consists of calcium carbonate. Being strong and dense, limestone is commonly used as a building material. It is also used in making of cement. Besides it is used as a chemical additive.
Variety
You can pick from a range of limestones to add elegance to your landscape as per your taste. They come in different shades, textures and finishes. Texture may vary from smooth to fine grained. Essex supplier of limestone paving provides finishes to the rock as per the client's need.
Maintenance of limestone
Limestone has a tendency to lose shine on exposure to direct sun rays for long time. A solution to this problem probably can be treating with a sealant. This would help in blocking the seepage of rainwater and other fluids through various openings.
Favourite features of limestone
The characteristics of limestone that make it a favourite for being used as a paving material are
– has natural colour variations
– is strong and dense
– is slip resistant
– is easily available
– is priced reasonably
Limestone combines looks with strength. Essex supplier of limestone paving believes that the stone draws its usability from its strength and durability ensuring a long life to the flooring.