Beetroot dishes can be of various types that can be served as sabzis, side dishes, or sweets. This beautiful reddish pink color vegetable is rich in calcium, iron, and minerals and in various ways it can be included in the meal. Carrots and Beetroots help to make an appearance in the menu. Beetroots can also be added in mix veg dishes or pulaos. Beetroots give an amazing color to the prepared foods- from nice pink to crimson red colour (depending upon the ingredients used in the particular recipe). So, Beetroot dishes look very attractive, colourful, and appealing. The popular Beetroot recipes are as follows: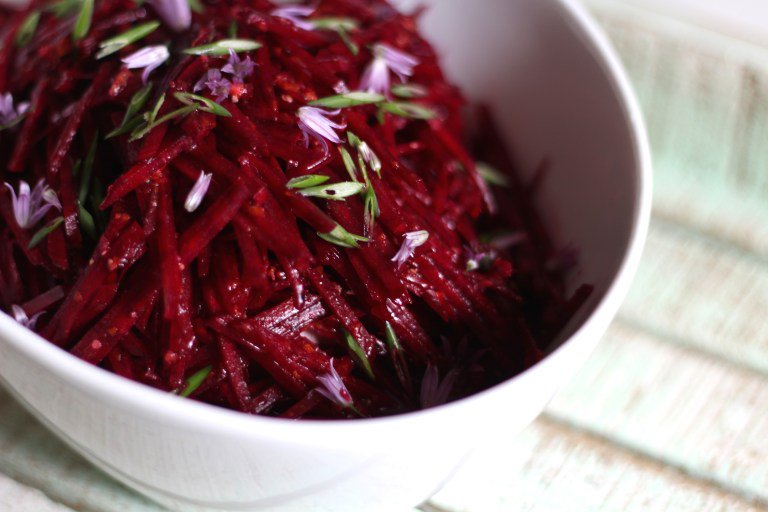 Beetroot Poriyal: The beetroot poriyal recipe is a preparation in which vegetables are sauted with spices as well as topped with grated coconut. This dish can be served as a side vegetable dish with a very popular rasam rice combo or sambar rice combo as well as with chapatis.
Beetroot Halwa: Halwa is a very popular sweet dish and it is associated with lots of variations. Such a variation is Beetroot Halwa. It is a slow cooked recipe of Halwa (a dessert recipe) that is associated with grated Beetroots, sugar, milk, dry fruits, and cardamom. The Halwa has a great color and superb taste.
Beetroot Paratha: It is a delicious dish in which whole wheat parathas are stuffed with a Beetroot (spiced) filling. These are associated with a faintly sweet taste that has come from Beetroots.
Beetroot Poori: Most of the people love to taste poori in their breakfast and these lovely crimson colored adorable Beetroot pooris will surely blow everyone's mind. These are not only associated with a lovely colour, but their taste is also very good.
Beetroot Bhaji: It is a simple, healthy, and homely recipe that is prepared in South Indian style. The particular sabzi really goes well as a side dish with dal-rice, rasam-rice, or even with khichdi. One can also enjoy this dish with chapatis.
Beetroot Rice: This is a recipe of slightly spiced pulao along with the sweetness of Beetroot. The flavor of Beetroot will come through in the spiced rice. It is a type of complexly flavoured dish. A pressure cooker really makes it easy in preparing this dish.
Beetroot Chops: They are a really irresistible dish and no one can stop by eating only one of them. These crisp and fried chops can be compared to cutlets or croquetts. These chops are associated with a slightly sweet taste for the addition of Carrot, Beetroot, and Peanuts.
Quick Beetroot Halwa: It is a quick version of Beetroot halwa that is made with mawa or khoya. If tastes like Carrot halwa and the flavor of Beetroot in this halwa can't be recognized.
Beetroot Chutney: The particular chutney is made with Beetroot for dosa and idli. It is somewhat sweet chutney along with some twist of green chillies. Although it is not like a sugary sweet taste, it is associated with a mellowed sweet taste.
All of the above recipes are really irresistible and so, if you want to know how to make South Indian Style Beetroot Poriyal or Beetroot halwa, paratha, poori and other recipes, then you can search on the internet. There are various websites that are providing these recipes.