Imagine a card that comes with a pre-approved loan. How about having a card that gives you amazing pre-approved offers? What about a card that offers you easy online shopping experience? And, what will you do, if you find that your favourite card has nil foreclosure charges? Well, these are not just the statements but a hard core reality.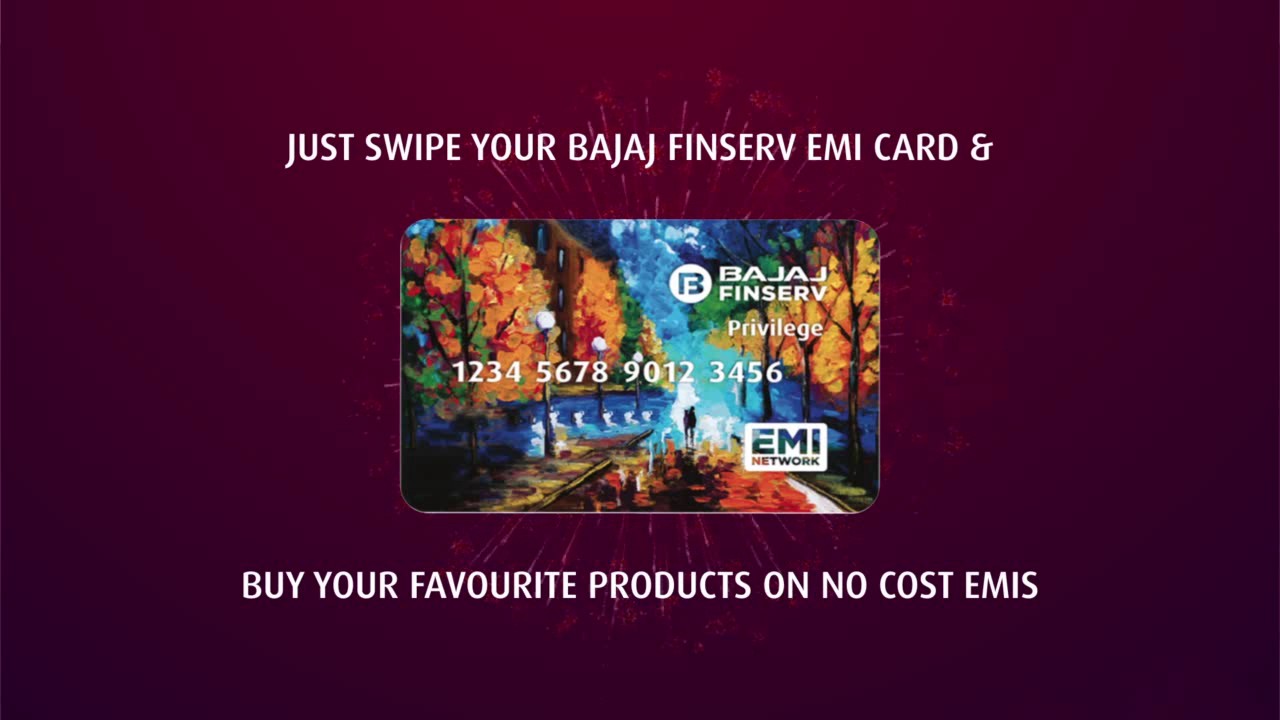 That's Right! There exist a credit card that offers you all these features and a lot more and the name is Bajaj EMI Card. Yes, this beautifully designed card comes with a host of impeccable features and privileges and ensures to fill your life with utmost comfort and convenience. So, without wasting any time further, let's just make you aware of Bajaj EMI card apply online.
What is Bajaj Finserv EMI Card?
A one-of-its-kind well-designed payment instrument that comes with a pre-approved loan amount. This masterpiece allows you to enjoy the smartest way to pay for all your purchases. Yes, right from electronics, furniture to life care services and groceries, everything is in your kitty on flexible EMIs. You simply need to pay easy monthly installments for all your lifestyle purchases.
Types of Bajaj EMI Cards
Gold EMI Card: Right from latest gadgets, electronics to furniture, buy everything you want and pay later in easy EMIs.
Pay ₹412 as a Joining Fee and an Annual fee of ₹117 (₹99+18% GST)
Hassle-free Online Shopping
Easy EMIs
Pre-approved Loan Amount
No Documentation
Pre-approved Credit Card Offers
Titanium EMI Card: Get upgraded to the Gold while enjoying a higher loan amount along with an Express Personal Loan and lucrative pre-approved Bajaj Finserv EMI credit card offers.
Pay ₹884 as a Joining Fee and an Annual fee of ₹117 (₹99+18% GST)
Hassle-free Online Shopping
Easy EMIs
Pre-approved Loan of up to ₹3 Lakh
No Documentation
Pre-approved Offers
How to Apply for Bajaj EMI Card?
Online: If you are an existing customer of Bajaj and are eligible for this card, you can easily apply for the same through the customer portal. And, in order to get this beautiful credit card online, you need to make an online payment of ₹399. After doing the same, the card will be sent to you within 2 weeks of doing the payment.
Offline: When it comes to applying for this card offline, you can also opt for an offline mode by making a purchase of electronics, gadgets or lifestyle products on easy EMIs in collaboration with partner stores on the EMI Network.
Bajaj Finserv EMI Credit Card Eligibility
An individual should be aged between 21 and 60 years.
An individual should have a regular source of income.
Documents Required
KYC Documents
One Cancelled Cheque
One Passport Size Photograph
ECS Mandate Duly Signed
Features & Benefits
This magical card is decked with a wide range of amazing features and makes sure that you will enjoy the life in the best way. Take a look below to read all the features and benefits.
Enjoy pre-approved loan of up to ₹4 Lakh
Repay Easily
No Documentation
Pre-approved Offers
Easy Online Shopping
Nil Foreclosure Charges
Bajaj Finserv EMI Card Customer Care Number
In case you want to get in touch with the customer care executives of this beautiful-looking card, you simply need to dial the 24×7 available number-020 3957 5152. Be it a complaint, query or suggestion, no matter what your concern is, by simply dialing this credit card customer care number all your problems will come to an end. The experienced and skilled team is always there to help you and ensures to keep you the best services.