Window displays are the first thing that customers see when they pass your shop, and creating an interesting and captivating display will help you to capture the attention of potential customers and potentially draw them inside Get your window displays wrong and you will almost certainly be missing out on sales. If you know you could be tempting more people into your shop with a better window display, here are a few ideas for creating a display that sells.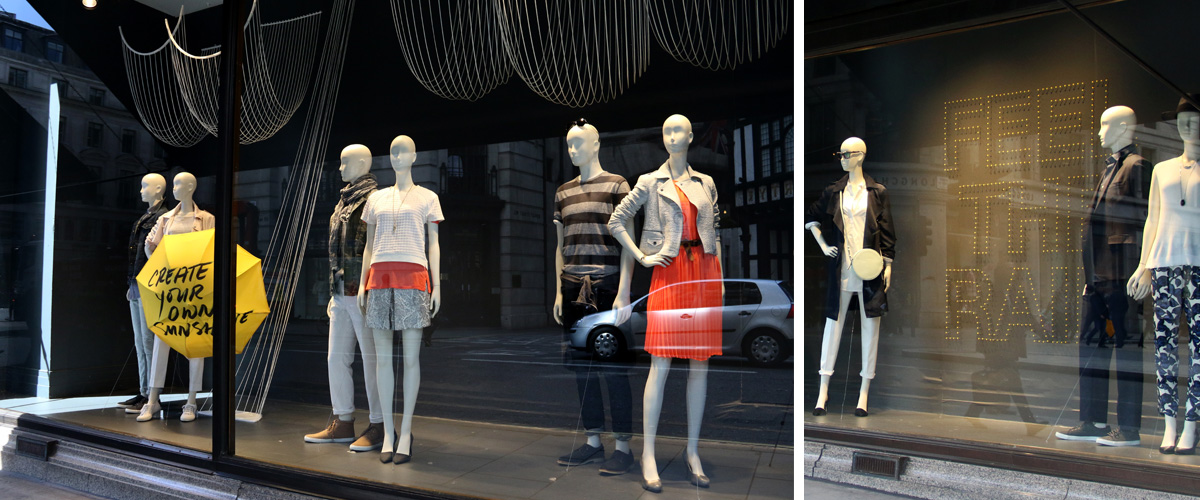 Construct Your Display at Eye Level
You could spend hours and hours over a display, only to find that when you look at it from the street everything is about a foot too high or too low. You want the main features of your display to be at eye level for people passing on the street in order to capture their attention properly. Make sure you make a mark somewhere in your display that highlights eye level from the street, otherwise you could end up wasting a lot of time and effort.
Be Different
The whole point of a window display is to stand out from the other shops on the street to encourage people to invest their time looking around your shop. To boost your chances of success, avoid doing the same thing as everyone else. Get creative with your displays and think of things that you can do to be different. Use everyday objects in unusual ways that will encourage people to stop and take a longer look, and try to focus on the unexpected.
Make a Statement
As well as being creative and original, make sure that your window displays are bold. You want to use bold colours and contrasts to make your display stand out and draw the attention of passers-by. Try to use fewer products to make them stand out, rather than cramming too many different things into your display and making it look crowded.
Highlight with Lighting
The way that you light up your window display can help to make it stand out and capture attention. When it comes to lighting, try to use different lights at various angles. Spotlights are ideal as they can help you to focus attention on a particular product. Overhead lighting is not as good because it can create too many shadows.
Consider leaving the lights on at night because you can stand out even more from the other shops, and you may be able to attract people back during the day who have been impressed by your display at night.
Keep It Fresh
Don't leave your displays for too long. Even the best display will need to be changed on a regular basis because it will lose its power to attract people. This is especially true of seasonal displays. If you leave your Christmas display out into the New Year it will look outdated very quickly. So try to change your window display on a regular basis to keep on attracting more people.
Make More Sales through Your Window Displays
Spending time and effort – but not necessarily money – over your window displays can make an enormous difference to your sales. If you have a window display that is captivating and stands out to customers, more people will stop to look and venture inside. So follow the tips above and make your window displays work harder to get you more sales.