Every day, business enterprises operating in a wide range of industry sectors use road vehicles to transport potentially hazardous materials around the UK and overseas. These cargoes, which can be everything from corrosive, toxic, and radioactive materials to flammable and explosive substances, are referred to as 'dangerous goods'.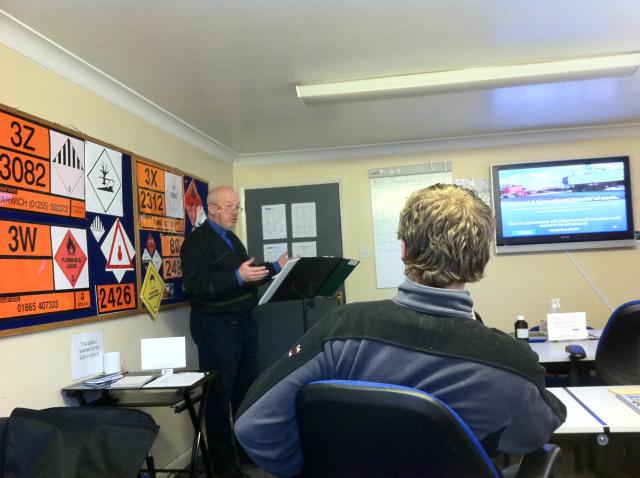 Moving dangerous goods safely
By law, all UK-based companies that transport materials of this kind by road must have an appointed Dangerous Goods Safety Adviser (DGSA) on hand to deliver qualified advice and guidance. To meet this requirement, companies can either get a member of their staff trained up to become a fully qualified DGSA, or make use of services offered by organisations which specialise in providing dangerous goods safety advice.
Many companies opt for the first option as sending a suitable candidate away to become a fully qualified DGSA is often (although not always) more beneficial than turning to expert professionals each time dangerous goods need to be moved. Suffice to say, training to become a Dangerous Goods Safety Adviser is a big deal. After all, being responsible for the successful transit of potentially lethal goods is not something that all individuals are happy – or able – to take on. Because of this, the DGSA exam is not just a moderately difficult qualification to pass, it is also limited in who is able to take it.
Suitable candidates
Only holders of a DGSA vocational training certificate (VTC) covering the relevant mode(s) of transport (road/rail/inland waterway) and class(es) of dangerous goods can become DGSAs. The only way to attain this certificate is to pass at least three exam papers, each of which is set by the Scottish Qualifications Authority (SQA) on behalf of the Department for Transport (DfT). These papers are of an academic nature, designed to be challenging – those choosing to take them need a comprehensive range of skills and considerable expertise to call on in order to achieve a pass.
Exams in detail
As highlighted earlier, the DGSA exam is split into three papers; two of them: the Core and All Classes papers, are mandatory and must be taken by all candidates. Once these two papers have been completed, candidates are able to choose their final paper from the Mode options – Road, Rail or Inland Waterways. In general, marks are given for identifying the precise legal source for each particular answer; this means that simply knowing the answer to a given question is not enough; a candidate must be able to highlight why their answer is correct.
There is a degree of topic crossover in places across the three papers; however, while the subject matter might appear to be the same from the outset, it is actually presented in a different context, therefore it needs to be considered from a different perspective on each individual paper.
Each paper maintains a pass mark of 65 per cent. Candidates who are able to pass the required exams will receive a DGSA qualification which will remain valid for five years.
About the author – Bo Heamyan blogs regularly about travel and transport issues and enjoys nothing more than extolling the virtues of the often underrated UK haulage industry on leading websites like dw-training.co.uk.